Posted on Monday, October 31, 2022 01:20 PM
Happy Halloween!
This a reminder that all of our recreation programs/services will close at 4:00 p.m., except for regular ice and the FDC Track. Have a safe and happy Halloween.
Remembrance...
Posted on Tuesday, October 04, 2022 03:24 PM
Quinte Sports & Wellness Centre Thanksgiving Weekend Schedule - October 8-10, 2022
Important Note: All regular recreation programs are cancelled October 8 to 10, except activities...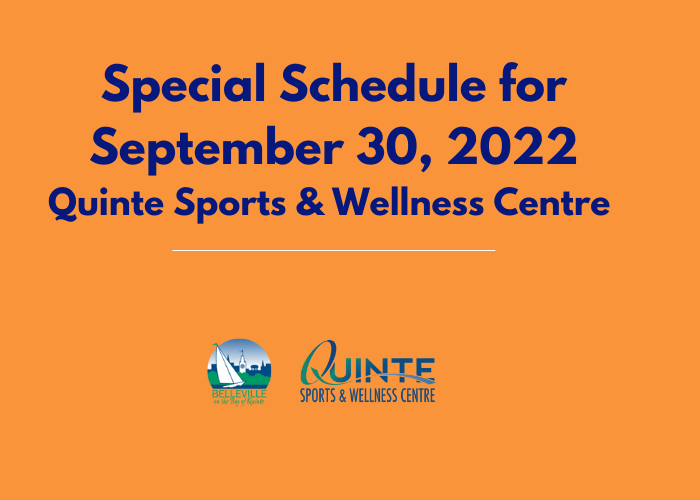 Posted on Friday, September 23, 2022 01:03 PM
We have a special schedule on September 30, 2022 at the Quinte Sports and Wellness Centre.
Regular Ice (BMHA Tournament & Pre-Season NHL Game)
FDC Track Open - 6:00 a.m. - 3:30...
Posted on Friday, September 09, 2022 03:22 PM
Due to unforeseen circumstances, the Templeman Aquatic Centre will be closed longer than anticipated. The City expects to reopen the pool to clients on Thursday, September 15....
Posted on Wednesday, August 24, 2022 02:32 PM
The Templeman Aquatic Centre at the Quinte Sports & Wellness Centre will be closed for its annual shut-down from August 27 through to September 11, 2022. During this time,...