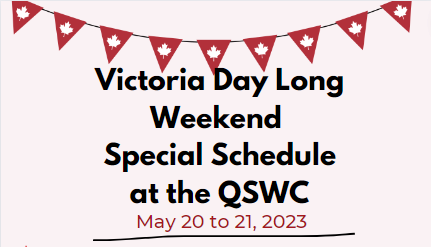 We have a special schedule during the Victoria Day Long Weekend. Pre-registration is required and fees apply to activities.
Youth Room Drop-in (Grades 6-12, Free with Youth card)
9:00am-12:00pm (Saturday), 10:00am-1:00pm (Sunday)
Workout Studio 10:00-11:00am, 11:00am-12:00pm, 12:00-1:00pm
Public/Lane Swim 11:30am-12:30pm, 1:00-2:00pm, 2:15-3:15pm
Family Gym/Open Gym 10:30am-12:15pm (Saturday), 12:15pm-2:00pm (Sunday)
Open Gym 12:45pm-2:30pm (Saturday)
Public Skating - Helmets strongly recommended 1:00-2:50 pm (Saturday), 11:00am-12:50pm (Sunday)
Pickleball Recreational 2:15-4:00pm (Sunday Only)
FDC Indoor Track (Free) - 8:00am-7:00pm (Saturday and Sunday)
Special Notes for May 20 and 21: There are no swimming lessons, aquafit or preschool programs.
Customer Service Desk Hours: Saturday: 8:45am-3:45pm Sunday: 8:45am-4:15pm
QSWC Closed May 22 for Victoria Day.