At this time we are not offering any skating programs. Stay tuned for Fall 2022 Programs (registration will be in August 2022).
Preschool Learn to Skate and Discover Skate lessons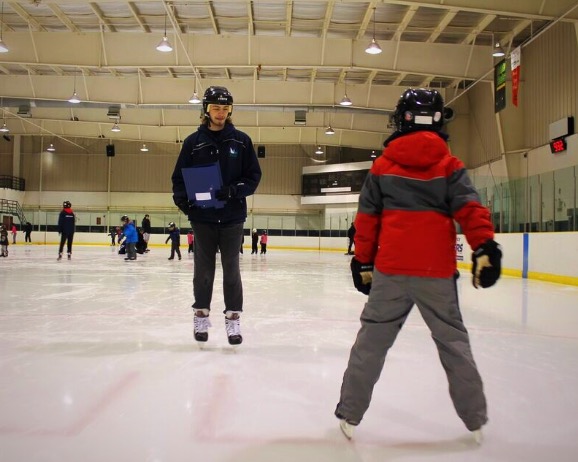 Lessons are by general age and level. Preschool Learn to Skate lessons are for ages 3-5. Discover Skate lessons are for ages 6 years and up. Levels for Preschool and Discover Skate are from Star 1 to Star 4. Preschool Learn to Skate lessons are also broken down by parented and un-parented classes.
Star level descriptions
There are 4 Star levels
Star 1 (Beginners)
Balance on two feet
Falling down, getting up
March on the spot
Walking and jumping
Forward glide
Stopping
Star 2
Must be able to do all Star 1 skills
Skate backwards
Forward and backwards glides
Turnings
Snowplow stop
Crossovers
Star 3
Must be able to do all Star 2 skills
Forward slalom
Backward glide
Jumping
Front glide on curve
Forward circle thrusts on curve
Crossover in figure eight
Star 4
Must be able to do all Star 3 skills
Backward jumps
Back glide on curve
Backward slalom
One foot spins
Backward circle thrusts
Backward crossovers
Low ratio skate lessons
Lesson for any age in a 1 to 2 ratio.
Private and semi-private lesson
Lessons for any age in a 1 on 1 or 1 to 2-3 ratio.
Power skating
Improve speed, balance, stopping, stride, and posture. We offer beginner, intermediate and advance level options. This is not a learn to skate program.
There are 4 power skating levels.
Beginner (ages 4 to 6)
Beginner hockey players
Must be able to skate
Beginner (ages 6 to 9)
Up to Novice level hockey players
Intermediate
Ages 9 to 12
Have completed two sessions of Beginner
Advanced
Ages 12+ or Power Skating Instructor approval
Adult skate lessons
Adult skating lessons for anyone 16 years and up to learn basic skating skills and improves confidence on the ice.